He felt at ease when creating patterns from pressed glass, hand-moulded glass and crystal decoration. He worked briefly on pressed glass, but his oeuvre includes both transparent and raw forms, constructed like architectural blocks, as well as streamlined ones with a freer outline. His unique decorations fit in with the current of modern pressed glass initiated at the "Ząbkowice" Household Glass Glassworks.
In blown glass, he experimented with the colour, varied structure of the material and form, always bearing in mind the usefulness of the designed product. He was equally eager to undertake work in unique glassware, which was not devoid of the element of utilitarianism.
In the period when he was running his own business, he was engaged in decorating lead glass and mastered the secrets of the grinder. At that time he used ready semi-finished products, for which he selected décors according to market demand
Ewa Chmielewska – art historian, curator in Schoen Palace Museum in Sosnowiec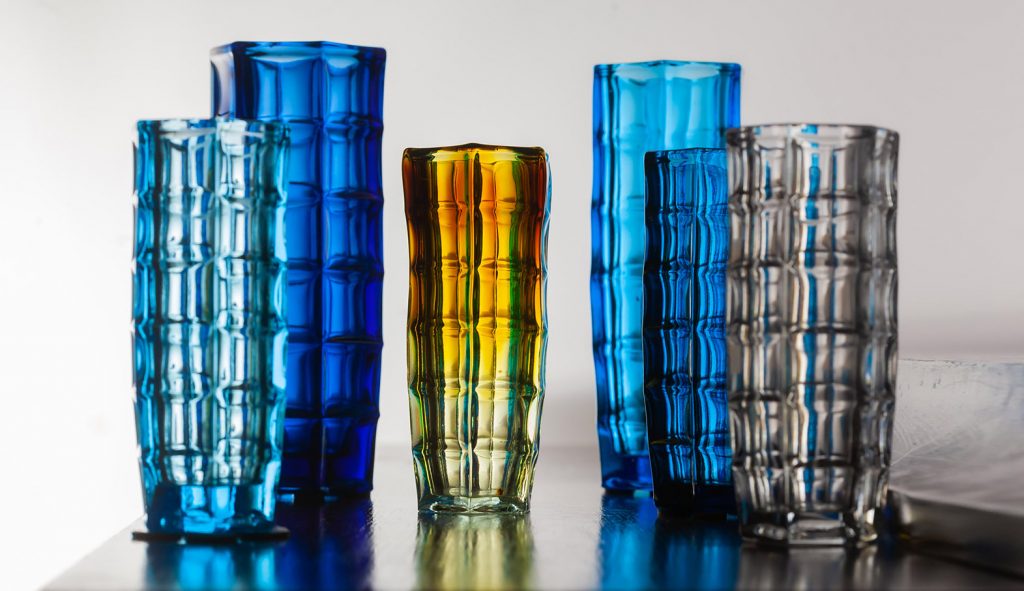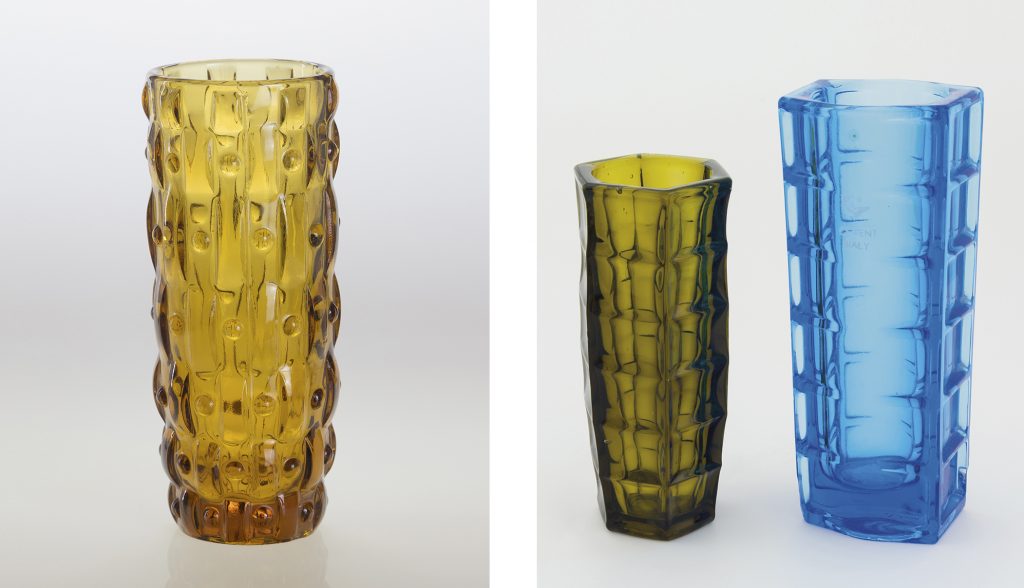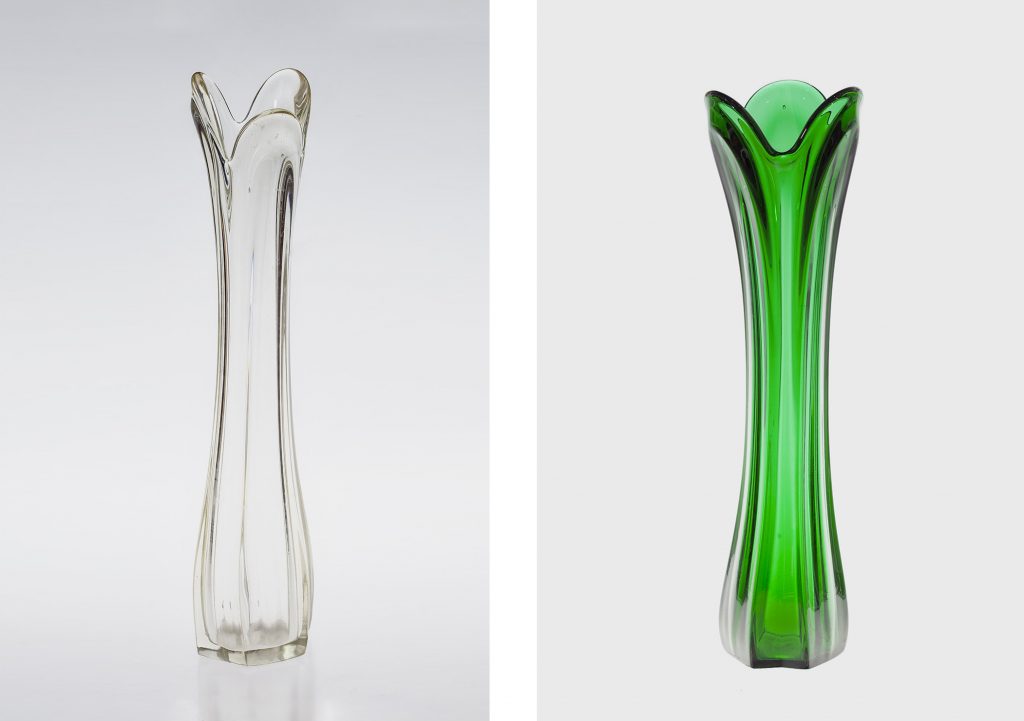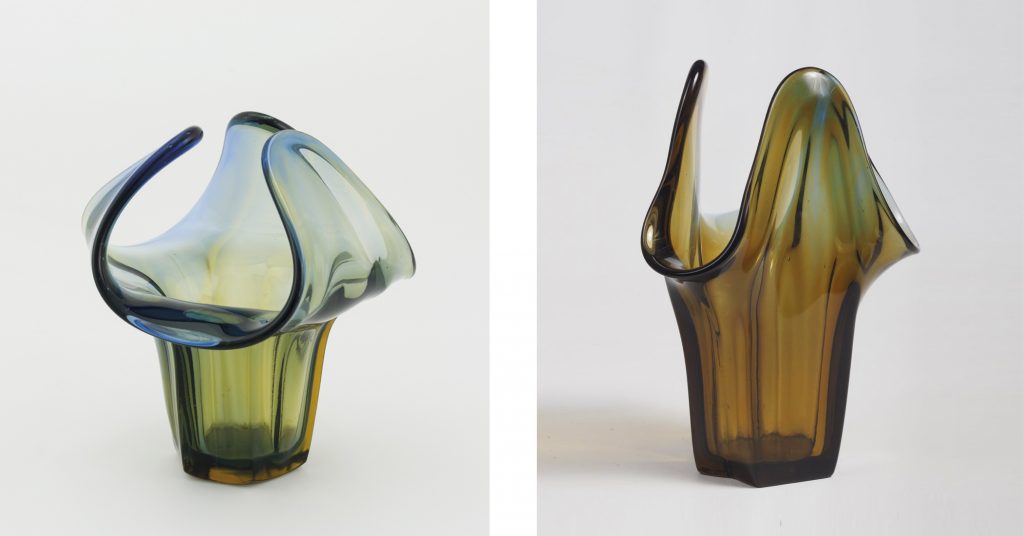 MORE PHOTOS:
In the years 1950–1955, he attended the High School of Fine Arts in Kielce. Graduated from the Faculty of Ceramics and Glass at the Academy of Fine Arts in Wrocław (now the E. Geppert Academy of Art and Design) in the studio of Professor Stanisław Dawski, 1961.
Designer at HSG "Ząbkowice" in Dąbrowa Górnicza, 1961–1966. In the years 1966–1972, he worked in the Glass Disposal Office in Sosnowiec; in the period 1973–1981, he headed the "Vitropol" United Industrial Design Centre Household and Technical Glass Works. As part of his work, he coordinated the activities of Design Centres in the glass industry, organised glass exhibitions, industry participation in the Poznań International Fair, open-air painting workshops for designers, developed cooperation between industry and the university, and with the Central and International Trade Centres. At the same time, he realised his own designs for utility and unique glass.
In the years 1961–1972, he led the Youth Circle of Artist Amateurs in Ząbkowice and Siewierz. In cooperation with the Management Board of the PTTK Branch, he co-organised a number of tourist rallies, this year a rally for glass industry employees.
Co-owner of the "Estebo" Glass and Crystal Factory in Sosnowiec, 1983–1995; designer at the "Józefów" Sanitary Ceramics Plant in Czeladź, 1994–1996.
Participant in many individual and collective exhibitions, domestic and foreign.
Winner of numerous awards and distinctions.
His works can be found in museum and private collections, such as the National Museum in Warsaw, the Museum in Gliwice, the Schoen Palace Museum in Sosnowiec, the Museum of Applied Arts in Berlin, and the National Museum in Wrocław.