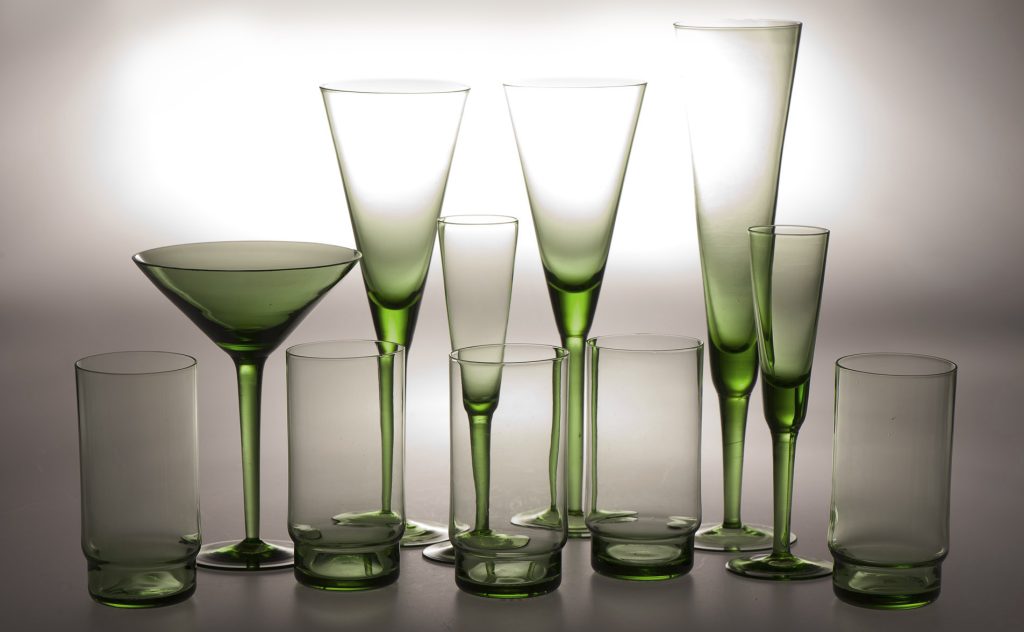 A colorful, though somewhat forgotten figure from the world of functional glass. Connected with Krosno, he is recognisable thanks to his simple, economical, balanced, and tasteful designs of glass vessels.
Thanks to his innovative approach and managerial skills, Polish industrial design could be popularised all over the world. He initiated the Minex Foreign Trade Centrum showroom in Warsaw, where he created his own designs and collected individual orders for Polish glassworks. Minex made Polish design famous by showing the almost limitless possibilities of the Polish glass industry.
Justyna Wierzchucka
Wszewłod Sarnecki was considered by the Wrocław community as one of the most talented designers in the history of the institution. After graduation in 1964, he started working at the Krosno Glassworks /…/. Sarnecki, a brilliant and lively artist, adapted to the working conditions in the great plant with great reluctance. He was not only involved in the design of utility glasses, but also in unique works, even engraving. Most of his works were improvised on an ad hoc basis. Being in constant conflict with the plant, which, to tell the truth, decided to make a number of concessions to the great designer, Sarnecki was nevertheless able to create a few multifunctional sets, vessels, marking, as it seems, the heights of Polish design at that time.
Professor Paweł Banaś, Polskie Współczesne Szkło Artystyczne (Polish Contemporary Glass), 1982
MORE PHOTOS:
He studied at the Secondary School of Arts and Crafts in Chernivtsi, Ukraine. In 1953, he managed to join family that had been repatriated to Poland. He worked in a porcelain manufacturer "Tułowice" Zakłady Porcelitu Stołowego in Tułowice. Then he graduated from the Ceramics and Glass Faculty at the Higher School of Fine Arts (currently: E. Geppert Academy of Art and Design) in Wrocław, 1965.
He worked as chief designer in Krosno Glassworks, Krosno, 1964–1973. There created a modern studio modeled on Western European plants, consisting of a team trained glassworkers. He worked with the Minex Foreign Trade Centre, which enabled him to travel around the world.
He has been awarded many times, including the following Golden Mercury for Krosno Glassworks in the field of design and aesthetics of industrial production. He designed, among others, the so-called Olympic sets for the Olympic Games in Mexico, 1968, and Munich, 1972. He achieved spectacular results his works are a perfect example of artistic glass created in an industrial plant.
His works have been exhibited in Poland and abroad and can be found in Polish and foreign collections.
He is considered to be one of the best Polish glass designers.