In her projects, the sculptural inclinations and methods of shaping the form characteristic of ceramic materials are particularly expressive. Many times the artist also made her own plaster models of designed vessels.
She likes to use compact, thick-walled solid, matt or grained texture and intense colour. Usually with shades of blue and green. Eryka Trzewik-Drost also made several attempts to use the technique of pressed glass as well as
hand-shaped glass for architectural decorations. Her proposals, which were interesting in this respect, did not find a wider application.
Professor Paweł Banaś, Polskie Współczesne Szkło Artystyczne (Polish Contemporary Glass), 1982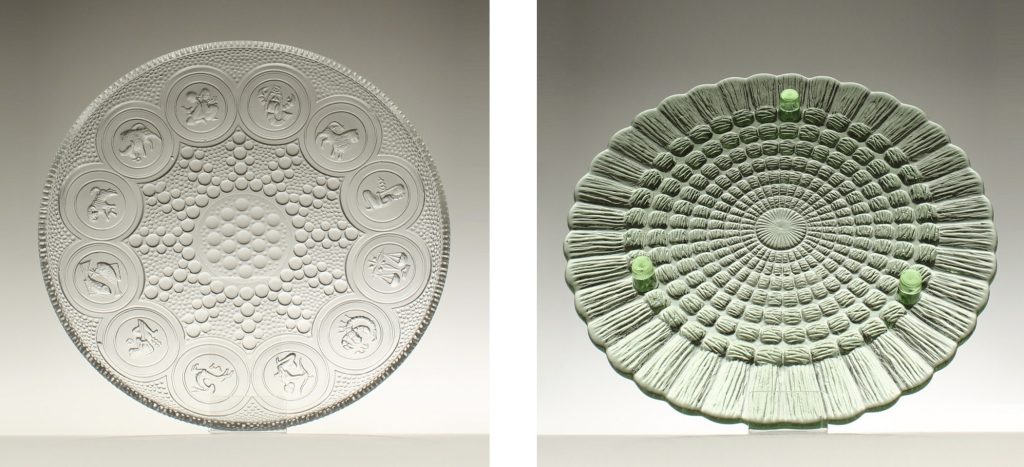 MORE PHOTOS:
Diploma under the direction of Professor Stanisław Dawski at the Ceramics and Glass Faculty of the State Higher School of Fine Arts (currently: E. Geppert Academy of Art and Design) in Wrocław, 1957.
She is a laureate of many awards, including the Award of the Minister of Culture, 1960, and the Award of the Design Council via the Prime Minister, 1968.
She worked at the "Bogucice" Porcelain Plant in Katowice-Bogucice, where she worked on the design of utility ceramics, 1957–1964. Then, like her husband Jan Sylwester Drost, she worked at the design centre of the "Ząbkowice" Household Glassworks in Ząbkowice Będzińskie (Dąbrowa Górnicza), 1966–1990.
She has taken part in 2 individual exhibitions and about 50 group exhibitions in Poland, Austria, Bulgaria, Czechoslovakia, GDR, Germany, Hungary, Italy, Latvia, Switzerland, Ukraine, UK, Yugoslavia, and the USSR.
Her works can be found in public and private collections in Poland and abroad, including the National Museum in Warsaw; the National Museum in Cracow; the Karkonosze Museum in Jelenia Góra; the Musée du Verre in Liège, Belgium; the European Museum of Contemporary Glass, Coburg, Germany.
Together with her husband, she reformed and promoted Polish pressed glass. In the 1970s, they were among the leading European designers in this field.
In her work, she willingly used the synthetically treated motif of a woman's head, maintained in the decorative new look trend, characteristic of the 1970s. She also works with artistic jewellery and graphics.